Early Years
Welcome to the Early Years Foundation Stage at Harehills Primary School
We have up to 78 places in our nursery. Starting pre-school can be lots of fun for children as they can make new friends and begin to explore new things. Before your child begins nursery, our staff will visit you and your child at home to make arrangements for their induction.
We have 90 places in reception, spread across three classes. This year we will be staggering our intake in order to ensure your child makes the best start possible. This will enable your child to settle easily and get used to the day to day routines of our school. You will receive a letter informing you of your child's class, start date and time by the end of July 2023.
All children in reception receive a free school meal as part of the governments universal free school meal offer. They will have their lunch together within the Hall/Studio as part of our Family Service arrangements and staff will be on hand to make sure that everybody is happy!
Starting School Booklet
Starting school can be a worrying time for any child. We have made the booklet below for you to read through with your child so they can get a feel of what school will be like on their first day.
Click the picture below to open the booklet and flick through the pages.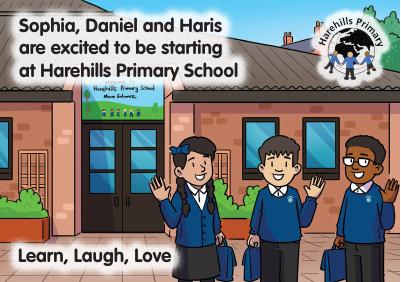 We also have printed versions of the booklet available. Please contact the school office if you would like one.
Meet The Staff
Early Years Curriculum
At Harehills Primary School our school's motto of 'Learn, Laugh, Love' is at the heart of our curriculum.
Our Early Years Foundation Stage has been designed to nurture the natural curiosity, talents and attributes brought by each unique child in a safe and stimulating environment. We want our children to have the knowledge, skills and understanding they need to be confident, independent and happy learners.
Our curriculum has been developed using:
As a part of the curriculum the children experience the seven areas of learning through a balance of whole class/group teaching and play based learning. This is through the children's interests, topics, themes, continuous provision activities and phonics.
The seven areas of learning include:
Three prime areas:
Communication and language
Physical development
Personal, social and emotional development
The children are also supported through the four specific areas, through which the three prime areas are strengthened and applied:
Literacy
Mathematics
Understanding the world
Expressive arts and design
Our Curriculum Goals
Early Years Curriculum Goals
Nursery Long Term Planning
Reception Long Term Planning
Sample Curriculum Progression
Phonics at Harehills Primary School
You can find out all about how we teach Phonics in the Reading and Phonics section of our website.
EYFS Prospectus 2022-2023
EYFS Attendance
We ask our children to be an Attendance H.E.R.O. (Here Every day Ready On time) and help us achieve our school Attendance Target of…

EYFS Attendance Class of the Half Term
This chart will be updated each hallf term to show the class with the best overall attendance.